The first of multiple releases in this relaunching of Perpetual Winter Productions. I probably should have done one of these closer to the start of this project, but disorganization and piss poor planning have plagued me throughout. So, here it is, the show that spawned the overall moniker for everything I do. This is the show that mirrors a daily personal playlist most closely as my evening playlist is almost always Black Metal & Doom.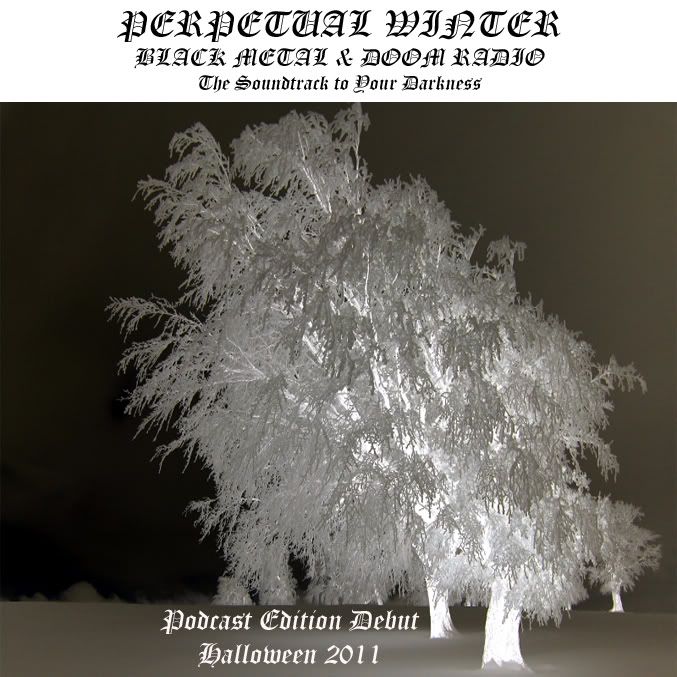 Perpetual Winter is meant to be the soundtrack to an evening, or the early morning hours. If you engage yourself entirely in the music you will be rewarded, but its not entirely necessary as these shows are more about setting a rather mellow mood in a room. You aren't going to find lots of over the top aggression in Perpetual Winter. In fact, in recorded form I have a hard time using the term aggressive to describe this music at all. This is relaxation music at its finest in my mind.
Download: Megupload, Rapidshare
Perpetual Winter is the Soundtrack to your Darkness...
Hour 1
Sorciers Des Glaces (Can)
- Misanthropy Within the Endless Mountains -
Moonrise in Total Darkness
- 2006
Worship
(Ger) - Endzeit Elegy -
Dooom
1
- 2007
Bethroned
(Cro) - Raventhrone (2010) -
Before Time
2
- 2010
Aeternum Sacris
(Jap) - Frozen Heart -
Return (Demo)
- 2011
(Free Download)
Taake
(Nor) - Myr -
Noregs Vaapen
- 2011 (Pre-order)
Clandestine Blaze
(Fin) - Possession of Nordic Blood - Falling Monuments - 2010
Loss
(US-TN) - Shallow Pulse -
Despond
- 2011
Uterus
(Ukr) - Transilvanian Hunger (Darkthrone) -
Christian Slut
- 2009
Emperor
(Nor) - Wrath of the Tyrant -
Emperor
(EP) - 1993
Hour 2
Kroda
(Ukr) - The Beginning of Winter Night of Oskorei -
Fimbulvinter
- 2007
Enslaved
(Nor) - Slaget I Skogen Bortenfor -
Hordanes Land
- 1993
Nokturnal Mortum
(Ukr) - Ukraine -
Voice of Steel
- 2009
Helheim
(Nor) - Viten og Mot (Sindighet) -
Heiðindómr ok Mótgangr
- 2011
Falls of Rauros
(US-ME) - Silence -
The Light That Dwells In Rotten Wood
- 2011
Temnozor
(Rus) - Evilgod's Raven -
Haunted Dreamscapes
- 2010
As usual, the band names will take you their Facebook/MySpace page, the best place to sample their music, and the albums will take you to a good place to buy it if you are in the States.
In the past I used wind samples as talkover beds, I'm not going to completely do away with that, but I intend to use as much neo-folk as I can get my hands on as well. This month I used tracks from
Shroud of Despondency
's (US-WI) 2002 debut "For Eternity Brings No Hope" which can be downloaded for free at the bands Bandcamp page.
Download: Megupload
, Rapidshare
1 - This is a link to the entire album. I was unable to locate any copies on this site of the pond. Worship albums sell for a bit on eBay too.
2 - This is a link to the entire album. It appears the band has had a falling out with the label that released it. I was unable to find any copies anywhere.