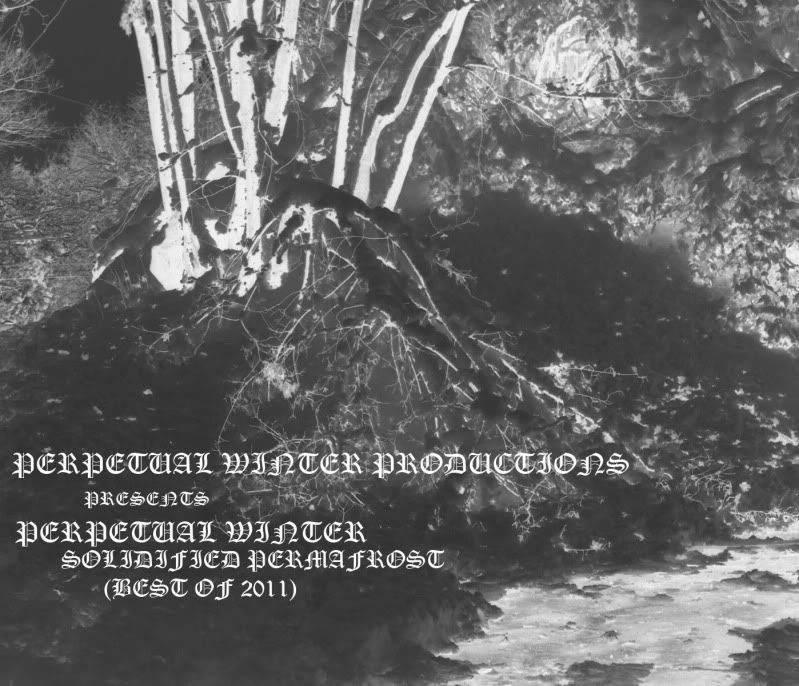 Some of the best Black Metal & Extreme Doom from 2011. Honestly, narrowing down the Black Metal for this show was a pain in the ass. Lots of great stuff this year, as usual visit the links to find GREAT places to buy this in North America. The music should pretty much speak for itself Though I have on correction as I do reference Leviathan's "True Traitor, True Whore" not being on my year end list, when in fact it is.
Also, you'll notice at the top of the second hour that the Bethroned track is bolded in bigger text. This is because G.D. from Bethroned was kind enough to send one of the final pre-release tracks from the upcoming "...Tragedy of War" full length. You can be assured I'll keep you folks in the loop on when that comes out.
In the end, as usual the music should speak for itself. Great Black Metal & Doom on Perpetual Winter: Solidified Permafrost Best of 2011. Perpetual Winter the soundtrack to your darkness.
!!!SUPPORT INDEPENDENT MUSICIANS AND RETAILERS AT THE LINKS BEL
OW!!!
Download from
Megaupload
Hour 1

Sorcier des Glaces (Can) - Deathlike Silence - The Puressence of Primitive Forests

Shroud of Despondency (US-WI) - Homo Homini Lupus - Dark Meditations in Monastic Seclusion
Aeternum Sacris (Jap) - Between the Devil and the Deep Blue Sea - (11-03-2011) (Demo)**
Thantifaxath (Can) - Violently Expanding Emptiness - Thantifaxath (EP)

Taake (Nor) - Nordbundet - Noregs Vaapen
Esoteric (U.K.) - Loss of Will - Paragon Dissonance
Fleshpress (Fin) - Copper Eye - Acid Mouth Strangulation
Petrychor (US-CA) - In Remembrance - Effigies and Epitaphs**



Hour 2



Bethroned (Cro) - Crossroad Between Life and Death - ...Tragedy of War - 2012 *
Loss (US-TN) - Conceptual Funeralism Unto the Final Act (of Being) - Despond
Alda (US-WA) - Tearing of the Weave - : tahoma : (Cassette)
Kroda (Ukr) - Schwarzpfad I (First Snow) - Schwarzpfad &
Ordog (Fin) - Human Shell - Remorse
Falls of Rauros (US-ME) - Banished - The Light That Dwells in Rotten Wood
* Perpetual Winter Productions Special Exclusive Preview
** This release is available as a legitimate free download at link.
& I could not find a suitable retailer for shipping to N. America.
STREAMING @ PERPETUALWINTERPRODUCTIONS.PODOMATIC.COM
NON-METAL PODCASTS @ PERPETUALWINTERNONMETAL.PODOMATIC.COM
Download from Megaupload